Co-Curricular Activities (CCAs)
"No man is an island". This quote by John Donne is a poignant reminder that we live in a society of people. Therefore, it's crucial to empathise with different people and learn to get along with others at the workplace, in schools, and in our local communities. The ability to connect with others is a highly rated skill that goes towards helping an individual succeed in life.
Like all kinds of life skills, children learn social skills in steps and are not born naturally to know how to get along with others. For example, a child needs to be cognizant of other people's feelings to develop effective social skills that include learning how to share and cooperate with other people.
Children first learn by watching how parents and family members behave with each other. Therefore, parents need to teach basic manners like saying "please" and "thank you" and mirror appropriate body language and eye contact.
Then as children get older, they have chances to interact with others outside of their families, and they draw from what they have learned at home to make friends within their peer groups.
In addition to the home environment, children also develop social skills when they attend a school or are placed in any setting where they have to be part of a large group, developing the ability to understand rules and control their behaviour. They also cultivate more complex skills such as managing their emotions and empathising with others. Based on these values and norms, they will refine their social skills to make and keep friends.

How can parents help in imparting these skills to their children?
Firstly, parents need to create opportunities for children to learn social skills. Then, look for schools that can provide holistic environments to learn these skills. This blog post will shed greater insight into how schools can help children learn social skills.
What are social skills, and why are they important for children?
We use our social skills to communicate with others daily, including verbal, nonverbal, written and visual.
Verbal skills involve spoken language, while nonverbal communication includes body language, facial expressions and eye contact. Social skills are always at play whenever you interact with another person.
These skills are essential because they can help one communicate more effectively and efficiently and, as a result, help build, maintain and grow relationships.
Children who are quick to develop social skills often enjoy better relationships with their peers. Not only do they make more friends, but
research
also indicates that friendship also helps to strengthen their mental health. In addition, it also gives children opportunities to practice more advanced social skills, like problem-solving and conflict resolution.
The third benefit of good social and emotional skills is that they often can predict success in the future at school and work. For example, longitudinal
research
over 20 years found that a child's ability to share, listen, and cooperate with the rules at age five predicted increased chances of entering college and gaining employment by age 25.
In fact, according to the
American Journal of Public Health
, a child's social and emotional learning in kindergarten could be the primary predictor of success in adulthood.


How does the school help in teaching social skills to children?
Schools play a huge role in providing the environment and opportunities for social and emotional learning.So how can schools help in better equipping children with these skills?
Firstly, schools perform a hidden function of guiding students to abide by society norms by socialising children into behaviours like following a schedule, and listening to rules. A good values-based education also instils the right values in children so that they can contribute meaningfully to society as future citizens.
Therefore, the role of the school is very crucial in socialisation. Education develops a child's social behaviour, knowledge, and experience. To achieve these goals, a good school will have a well-rounded curriculum that encourages teamwork to teach students about the dynamics of cooperation, with ample opportunities to interact with students of different ages (e.g. juniors and seniors), in a diverse, multicultural setting.


How can educators help to improve children's social skills?
School and classroom routines, led by teachers serving as role models and leaders, regularly reinforce what society desires from youths. Children spend a lot of time in school, so the roles that students play in school also help them to develop social skills. From classroom duties to leadership roles, students learn from these responsibilities how to empathise with others and influence their friends toward a common goal.
Assignments that allow for group discussions and presentations will also create opportunities for students to learn to communicate with others and navigate tricky group dynamics.
Student success in school depends on the entire learning experience beyond mere basic education in the classroom. For example, the more positive relationships students develop with their teachers and peers, the more motivated and likely they are to stay engaged and excel in their studies. Therefore, lessons that foster active class participation and teachers that go the extra mile to facilitate interaction in class will also build the students' confidence to communicate.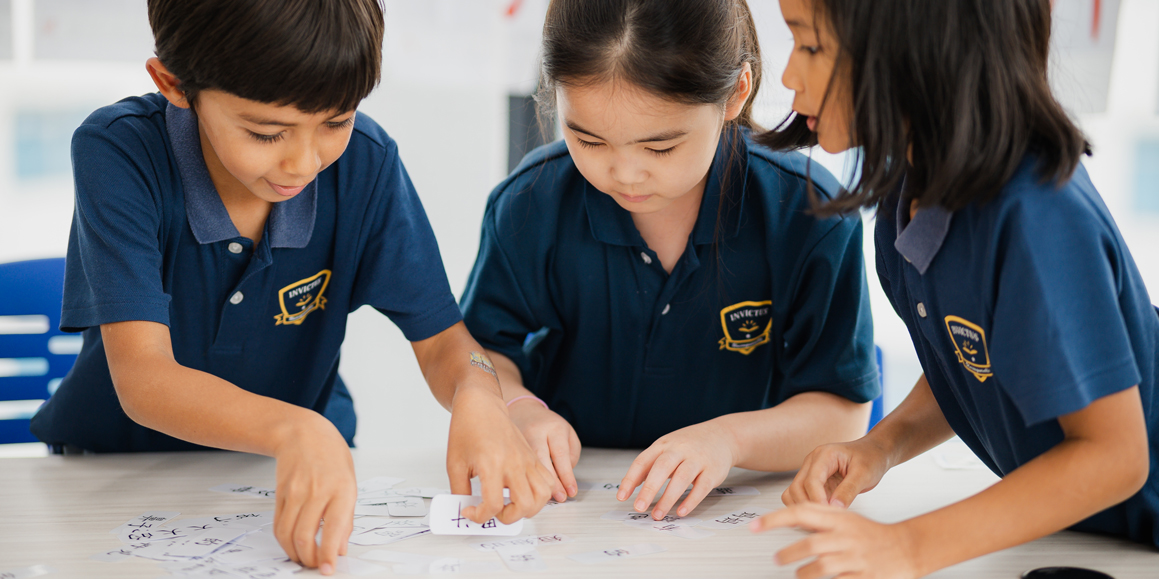 Students need more than just making connections, though. While it's true that the positive experience of interacting with friends and peers improves mood and general well-being, students also need to feel like they belong and have friends. When educators put in place approaches to develop a student's social and emotional learning,
The school needs to have a warm, nurturing culture so that students view their school as a safe learning community where they embrace the learning process to express their emotions.
With this in mind, parents should know what to look out for when choosing the right schools so that their children will learn appropriate social skills in a safe space. It's essential to look out for schools that provide many opportunities for collaborative learning so that your child can learn to work with others and make social connections.
One good way is to check if the school provides extra-curricular activities outside of academic pursuits.
Extra-curricular activities
are non-academic pursuits where students can learn other skills such as sports or music with peers of different ages. In addition, such activities provide a chance for them to work together with people apart from their classmates.
Another way is to tour their school during
an open house
and interact with the students. If the students engage with positive body language and good eye contact, then the school clearly does an excellent job to teach social skills. You should also be able to see examples of social and emotional learning such as thank you cards or proud recognition of good deeds by students placed on a display wall in the school. These signs are indicators that the school environment is a nurturing one.
Why enrol your child in Invictus?
Children learn social skills from as young as 3 years old. Invictus International School in Cambodia provides a solid foundation from nursery to secondary school (13-16 years).
The school also uses different student-centric pedagogical approaches to encourage collaborative learning in the curriculum. Teachers are focused on cultivating a safe space and good relationships with their students. It's not all about academic learning here. Invictus has several ECAs for non-academic learning, so students have a chance to work with other schoolmates from all walks of life beyond their classrooms. To find out how an international school like Invictus produces graduates with outstanding social skills,
contact us
or book a school tour with us today.